28.06.2021
Towards S4 and interregional innovation investments in the Baltic Sea region
Supported by EUSBSR Policy Area Innovation, sub-regions in the Baltic Sea region are actively developing their smart specialisation (S3) strategies in line with the EU Green Deal and with increasing focus on interregional cooperation. Some recent developments, based on the outcomes of BSR S3 Ecosystem platform project, are outlined in this article. They offer valuable tools and guidance for the effective and coordinated utilisation of EU 2021-2027 opportunities in the BSR sub-regions, including utilisation of the new EU instrument for interregional innovation investments (I3). Finally, the BSR S3 Ecosystem Platform outcomes provide insights and tools for the regions to develop their smart specialization strategies for sustainability (S4), with a strong focus on inclusive sustainability, green and digital transition.
BSR S3 ecosystem Platform (2019-2021)

BSR S3 Ecosystem Platform project, financed by the Interreg Baltic Sea Region Programme, aims to influence, improve knowledge and raise discussion among regional, national and EU level innovation policy actors and experts of the opportunities, challenges and needed capacities related to the development of more strategic interregional cooperation that would be strongly based on the innovation policy priorities of regional smart specialisation. BSR S3 Ecosystem Platform partners include Region Västerbotten (Sweden),The Baltic Institute of Finland (Finland), Aalto University (Finland), Lahti University of Applied Sciences (Finland), Hamburg Institute of International Economics (Germany), Agency for Science, Innovation and Technology (Lithuania), Trondelag County Authority (Norway) and St. Petersburg State Healthcare Institution "Medical Information and Analytical Centre" (Russia).  In this project platform, the partners share and scale up transnational S3 cooperation concepts developed in BSR Stars S3, GoSmart BSR, Smart-Up BSR, S34Growth, BIOREGIO and ClusterFy Interreg projects. EUSBSR Policy Area Innovation actively supports and contributes to the project through The Baltic Institute of Finland.
Driving a new approach to interregional cooperation in the BSR
Smart specialisation is said to be the European Union's most ambitious regional innovation policy programme with the aim to boost industrial transformation and European competitiveness. Since 2014, EU-member regions have created and implemented Research and Innovation Strategies for Smart Specialisation (RIS3), including selection of key economic priority areas that guide the efficient use of EU Funds in the regions. These regional strategies are updated over time with the aim to correspond to the changes in regional and global innovation environment. Engagement of research, business, public sector and representatives of civil society is a key to efficient RIS3 implementation.
In the new EU programming period 2021-2027, the European Commission emphasises the role of S3 as a strategic tool to enhance inclusive green transition (development of S3 towards S4) in line with the EU Green Deal and enhance more effective interregional innovation cooperation. For the latter, the Commission is currently launching a new interregional innovation investment (I3) funding instrument to boost performance towards joint investments aiming to realise interregional smart specialisation.
Also the Policy Area Innovation lead innovation actions of the new EUSBSR action plan aim to support the development of interregional value chains across the strongest areas in the BSR, such as bioeconomy, circular economy, health, blue growth and digitalisation. To support this, the ERDF Managing Authorities in the BSR are currently seeking possibilities to better embed EUSBSR into regional structural fund programmes in the BSR and enable e.g. coordinated ERDF calls with various regions.
The Baltic Sea macro-region with the EUSBSR as a supporting framework has a momentum to influence conditions enabling a place-based approach for the development of thematic innovation partnerships and interregional value chains for sustainable innovation performance, and as a macro-region build connections to global value chains.
Smart specialisation and interregional cooperation in the BSR: Experiences and results from 2014-2020
The Baltic Sea region has a long history of interregional cooperation. According to a study made within the BSR S3 Ecsystem Platform, "Smart specialisation in the Baltic Sea Region – Learning towards Macro-regional Specialisation" (Leino 2020), EU Interreg projects have been a good way to strengthen regional capacities, share and learn from other regions to support regional innovation strategy and S3 implementation. The study is based on interviews with nine BSR regions that have been lead partners or partners in interregional S3 projects financed by Interreg BSR and Interreg Europe programmes. The interviewed regions are: Central Finland, Hamburg, Helsinki-Uusimaa, Lithuania, Mecklenburg-Western Pomerania, Päijät-Häme, Tampere Region, Trøndelag and Västerbotten. The report describes their regional S3 processes, good practices and inter-regional activities tested in Interreg projects.
Some projects have built thematic inter-regional networks (RDI2Club, bioeconomy and BIOREGIO, circular economy), some have developed and piloted methodologies to strengthen regional S3 (LARS, EmpInno) and interregional S3 (GoSmart BSR), while others have focused on joint S3-releated challenges and organised study visits and inter-regional innovation camps to find new perspectives and solutions to the challenges (SmartUp BSR and BSR Stars S3). There have also been projects which have adopted a strong influencing towards shaping future EU-level policies regarding thematic interregional cooperation (ClusterFY and S34Growth). The experiences from these projects linked with regional smart specialisation processes have provided 1) experiences from cooperating with regions with related S3 priorities, 2) various methods related to identifying partners with mutual or complementary needs and interests, 3) practices that support longer-term partnership- and trust building.
Furthermore, the findings of the study indicate that the basis for the development of strategic interregional S3 is built on a successful innovation stakeholder involvement process (so-called Entrepreneurial Discovery Process), good S3 governance, awareness of innovation ecosystems & value chains and sufficient flexibility to adapt to new developments at the regional level. This ability to renew is very critical especially in the post-Covid recovery context as companies are forced to re-evaluate their connections to global supply chains.
Value chain analysis and mapping
The BSR S3 Ecosystem Platform proposes value chain analysis and mapping as a useful tool in the development of interregional innovation cooperation. A pilot exercise of the first stage analysis of the BSR's circular bioeconomy (CBE) value chain was undertaken as part of the Platform project.
Based on the pilot a "first-stage value chain mapping analysis of the Circular Bioeconomy across the BSR" and an accompanying "value chain mapping manual" have been produced describing a method for identifying relevant value chains across regions in a selected field.
National and regional perspectives: opportunities and challenges
During first half of 2021, the BSR S3 Ecosystem Platform project organised a series of webinars with the aim of reaching out to a number of regional, national and EU innovation policy makers as well as innovation practitioners to discuss the opportunities, challenges and needed capacities related to the development of interregional innovation cooperation and the relevance of value chain mapping.
The discussion in the workshops highlighted the need for:
political will and motivation
good regional innovation and S3 governance including continuous interaction with business, research, public and non-governmental sector actors
leadership skills including a mind-set that allows a pioneering role, testing and risk taking
a political and financial framework that enables resources for this work at the regional level.
These elements are needed for the building of long-term strategic innovation cooperation and partnerships that can eventually lead to joint investments. The regions have an important role in strengthening the commitment of all actors, including the business sector, to move forward with selected strategic direction with interregional cooperation. A crucial point is the need for more strategic planning of and interlinkages between various projects. For example one of the core challenges in current interregional cooperation is the gap between demonstration and scale-up as most interregional projects do not reach the scale-up phase due to insufficient short term planning and financial constraints.
The below diagram illustrates the stages from early forms of cooperation (good practice sharing) through to strongly embedded ways of working – to underpin the development of interregional collaboration.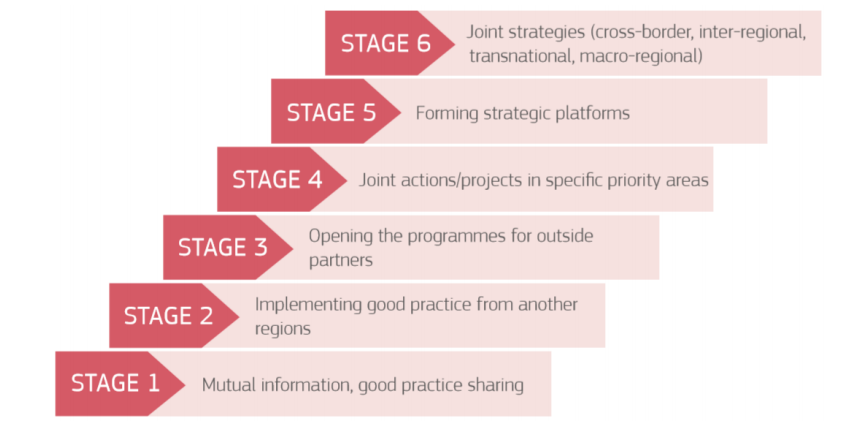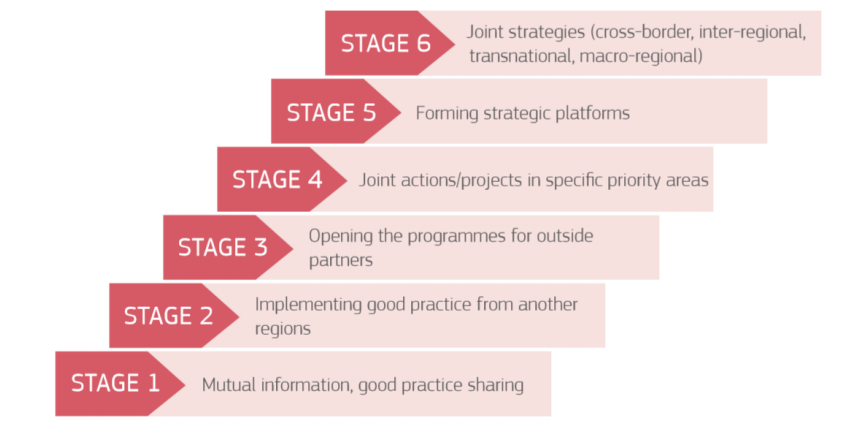 Figure: Stages of interregional collaboration (Source: Implementing Smart Specialisation Strategies: A Handbook, 2016)
Innovation camps discussed the future of interregional cooperation and S4
Altogether four virtual innovation camps were also organised during spring 2021 within the BSR S3 Ecosystem Platform. The innovation camps were organised by Aalto University according to a European Innovation Camp Methodology. Each innovation camp is based on two pre-defined challenges that the regional innovation stakeholders from across the BSR discuss and find solutions for. The added value of the innovation camp process is the possibility to get various perspectives and inspiration to the joint challenges.
The fourth and final innovation camp took place on 8 June 2021 with a focus on the various challenges related to the adoption of the new 'S4 methodology'. S4 is in practice a voluntary-based next step from S3, and it requires a totally new approach to innovation. It underlines e.g. multilevel governance and a fundamental bottom-up approach to regional innovation policy and smart specialisation. It means synergies between policies and investment between EU, national, regional and community level and inter-regional cooperation for positioning in EU industrial partnerships. It means fluent interaction between public sector, private sector, civil society; large and smaller firms, innovative start-ups and SMEs, social entrepreneurs, social communities, users, trade unions, citizens' associations and NGOs. The S4 concept is all about bottom-up inclusive processes, where all actors participate in forming long-term vision for sustainable society and relevant actions to achieve it. A major challenge is to change old (top-down) ways of working and find resources and skills to organize the interaction with various stakeholders in a way that is efficient and systematic.
Role of EUSBSR in supporting strategic innovation cooperation in the Baltic Sea Region
The key aim of EUSBSR Policy Area Innovation is to provide a strong platform for an enhanced macroregional collaborative ecosystem for innovation, research, SMEs and digitalization, facilitate the joining up of forces in the development of solutions for common challenges in the region, promote better coordination of funding sources, and enhance a globally competitive position and visibility of the BSR.
EUSBSR Policy Area Innovation contributes to the BSR S3 Ecosystem Platform by:
contributing to policies, actions and instruments of the EU's post-2020 innovation agenda, and facilitating the creation of a strong basis – with concrete need- and challenge-driven project initiatives – for the implementation of the new EUSBSR action plan and its actions on interregional S3/S4 with EU 2021-2027 instruments;
supporting ongoing and earlier S3 projects in BSR in promotion, dissemination and scaling-up of their results, in policy learning and dialogue, and facilitating the development of the projects' follow-up/new project initiatives under BSR S3 Ecosystem;
supporting the embedding of EUSBSR aims into mainstream structural fund programmes in the BSR (to enable coordinated calls and interregional actions between regional ERDF projects).
promoting the development of interregional value chains across the strongest strategic (smart specialisation) fields, such as bioeconomy, blue growth, digitalisation and health in the BSR in line with the EU Green Deal.
Johanna Leino, The Baltic Institute of Finland
Esa Kokkonen, EUSBSR Policy Area Innovation, The Baltic Institute of Finland